About Willamette Valley Fine Woodworking
Willamette Valley Fine Woodworking has been building custom furniture and cabinets, and serving remodeling customers since 2002. We are located just south of Salem and serve the central Willamette Valley and Portland metropolitan areas. Please contact us to discuss your next project.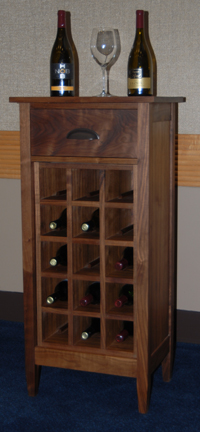 Cabinetry
Willamette Valley Fine Woodworking is a locally owned, full-service custom cabinet shop, and has been making the highest quality cabinets since 2002. Our craftsmen have over 50 years of combined experience in fine woodworking. Our materials are of superior quality, sustainably harvested, and locally sourced whenever possible. We avoid the use of particle board and other synthetic wood products, preferring instead premium solid hardwoods and veneers that will stand the test of time.
Custom Furniture
The quality of our cabinets stems from our passion for creating fine, hand-made furniture. We combine the efficiency a modern shop full of tools and machinery with traditional hand work to build furniture pieces that will last for generations. We collaborate with you on designs to ensure that the end product surpasses expectations. Our furniture is made to order, and is constructed of hand-selected, premium hardwoods. We use traditional, time-tested methods of construction and apply finishes that are both durable and beautiful.
Remodeling
Willamette Valley Fine Woodworking is a licensed general contractor with our own custom cabinet shop. In this way, we are able to assist with all phases of your project. Our project managers insure that each aspect of your job runs smoothly and that the highest standards are met in every area of construction. We assist with all aspects of design, materials selection and budgeting. We'd be happy to discuss your needs for a new kitchen or bath, addition or expansion, or whole-house remodeling. We can handle the project from start to finish.
Commercial Projects
Our commercial work ranges from retail store fixtures & display cabinets to conference room & office furniture to reception desks and covers all aspects of woodworking in a commercial setting. Our commercial clients include the Oregon Tourism Commission, the Oregon State Capitol, the Filson Co., and Jackson Jewelers.